Discover the secret to healthy skin with the Face Spray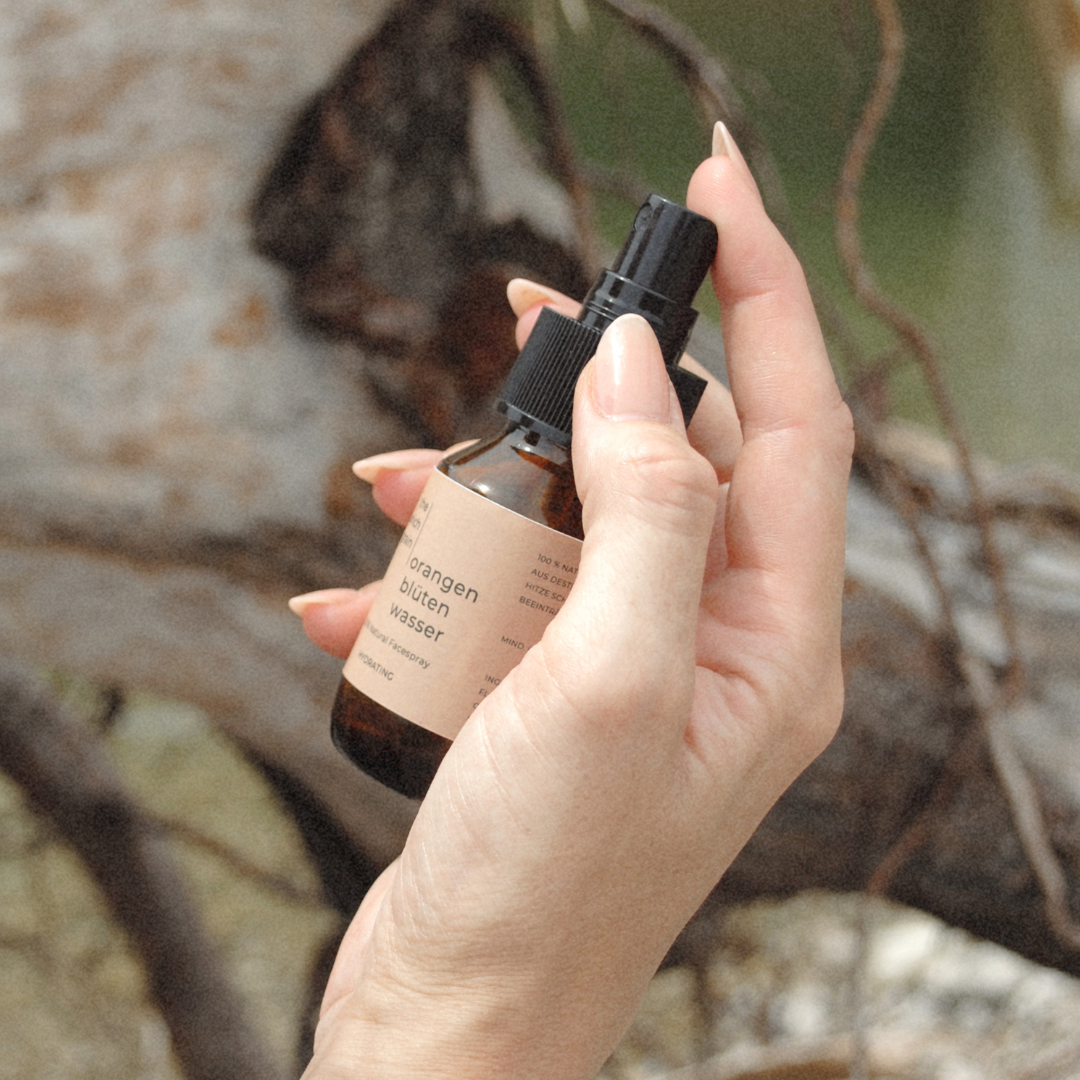 When it comes to skin care, proper hydration is crucial for healthy and radiant skin. Our Orange Blossom Face Spray is the secret to hydrated and revitalized skin. In this article you will learn everything about the use and benefits of this amazing natural product.
Application: Using our Orange Blossom Face Spray couldn't be easier. Follow these steps to get the most out of this refreshing product:
Thoroughly cleanse your skin to remove dirt and impurities.
Spray the Orange Blossom Face Spray evenly onto your face in the morning and evening. This serves as the basis for your subsequent skin care routine.

Now apply your usual facial oil or moisturizer. The Face Spray prepares your skin optimally and helps to retain moisture.
What skin type is the Face Spray suitable for?
Our Orange Blossom Face Spray is a versatile product that is suitable for all skin types. However, it is particularly beneficial for certain skin needs:
Dry skin: The Face Spray supports the regeneration of skin cells and provides intensive moisture without causing irritation. Your skin becomes softer and more supple.

Mature skin: If you have mature skin, you will love the regenerative properties of the face spray . It helps reduce the signs of aging and gives your complexion a fresher appearance.

Sensitive skin: Even if you have sensitive skin, our Face Spray is a gentle choice. It soothes and refreshes the skin without causing redness or irritation.
After shaving: Orange blossom water is not only suitable for daily skin care, but is also extremely useful after shaving. Here are the benefits:
Provides the skin with sufficient moisture after shaving.
Has a moisturizing effect and helps to care for dry and brittle skin.
Soothes the skin and reduces irritation that often occurs after shaving.
For oily skin: Even if you have oily skin, our orange blossom water can work wonders. Here's how you can incorporate it into your skincare routine:
Reduces unsightly shine on the skin.
Refines the pores and ensures an overall better complexion.
Apply it to your face twice a day for best results.
Our Orange Blossom Face Spray is a real all-rounder that will help you get the most out of your skin care, regardless of your skin type or daily challenges. Add it to your routine today and experience the benefits of radiant, healthier-looking skin.
What is a hydrosol?
Long neglected as home remedies and in aromatic care, hydrosols, or floral waters, have always been an important cosmetic product in natural cosmetics. The herbal active ingredients dissolved in water are extremely mild and effective little helpers in daily use.
A plant water or hydrosol is a product obtained from medicinal plants through water or steam distillation. It is created during the distillation process in which essential oils are extracted. The steam distillation process makes it possible to extract the valuable active ingredients and aromas of the plants in the form of clear, gentle water. This water not only contains the beneficial ingredients of the plant, but also a subtle scent that pampers the senses.
Hydrosols are known for their wide range of uses in skin care as they are gentle, gentle and yet effective. They can be used as a refreshing facial mist , as a base for face masks or as a gentle cleansing solution. The soothing and regenerating properties make them an essential part of a natural skin care routine.